Yesterday I've mentioned a start-up project called obuvki41plus.com and that it accepts phone orders instead of online electronic orders like everyone else. I will tell you why.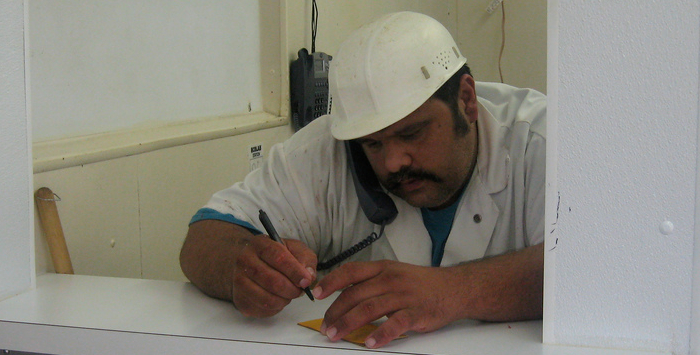 Image CC-BY Southern Foodways Alliance
obuvki41plus.com is a re-seller business my spouse runs. It specializes in large size, elegant ladies shoes - Europe size 41 plus, which are hard to find in Bulgaria. There is a shopping cart component on the website which at the end redirects to a simple page with instructions how to order via phone. Why not online orders like everyone else? Several reasons!
The business target group is very limited - women who wear large shoe size and like the proposed shoe style and can afford the higher price (quality shoes only, sorry). On top of that the business model is online only. The rule of thumb is to make everything possible to lower barrier to entry for customers! Also don't make our lives harder in doing so.
Phone ordering is the easiest way for customers in Bulgaria. I myself often prefer it because of the too many steps and too many fields to fill-in when ordering online. The reality is that most local websites are horribly made with respect to user experience and many users are not that fluent with Internet as it may seem. No need to get people frustrated if they are about to spend their money with you!

Phone ordering, especially in the early business stage lets you know your customers. This is invaluable feedback for you as the owner and you can't get that from an online ordering system. It just doesn't work, I've tried!

A phone ordering system is just so easy to implement. Later that can be scaled with some automated IVR system and a call center; Or just migrate it to online ordering system;

The website in question is supposed to be no-maintenance as much as possible. It is static HTML and no database at all. Introducing online ordering is just too much of a technological overhead in this case;

Last but probably most important is customer care - not only we want to make it easy for them to order but want to prevent frequent returns caused by wrong product expectations or incorrect size. After all shoes need to be tried first.
So to summarize - the orders are taken in person via phone including objection handling and questions answering. An order may consist of up to 3 pairs of shoes which are shipped to the customer with the option to try them out upon delivery! Buy all or just a pair - it's a customer call! Small return fee is imposed to prevent abuse!
For that kind of business this seems to be the best solution so far. I'd love to hear other owners experience and decision logic. Please use the comments to tell us how you've organized the sales/ordering/delivery process in your company and why so. Thanks!